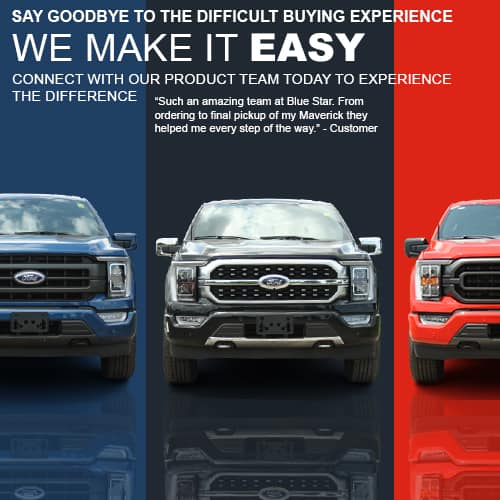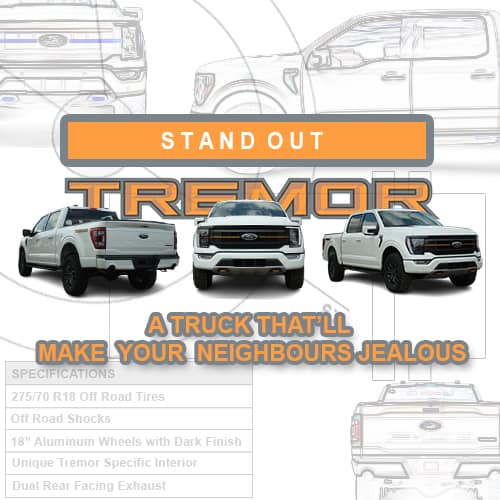 OUR REVIEWS
Excellent
4.3
★
★
★
★
☆
Based on 343 reviews from
review us on
★★★★★
Very friendly and helpful staff! Collin and Tracy were amazing to deal with very insightful and helpful with the new suv. The salsa floor is very clean and everyone is so nice. Thank you for everything
Christine Coppes
★★★★★
Thanks to Riley and crew for excellent service, completing a Ford recall re: wiring on my Mustang. On time and friendly service by all. Roy Edge
Response from the ownerThank you so much for sharing your kind words and positive experience, Roy! We hope to see you again. Safe driving!
Roy Edge
★★★★★
Colin and Shayne were extremely helpful. I went in wanting to trade in my vehicle, but was unsure of what my next steps were going to be. They asked me what I was hoping for and they found the perfect vehicle for me! Within a week I had my new SUV In my possession !I highly recommend seeing them if you need anything
Response from the ownerTiffany - thank you so much for sharing your experience and kind words! Enjoy your new ride, we hope to see you again!
Tiffany Wedman
★★★★★
Just picked up my second vehicle purchased from Blue Star. Kudos and thanks to Colin and Shane. Both guys mercilessly harassed Ford for updates on my order, and kept me in the loop.Colin is a positive and enthusiastic salesman who strives to ensure that his customers are satisfied. Way to go, Gang!
Response from the ownerThank you so much for your kind words and continued business, Tyson! Enjoy the new ride, we know we enjoyed getting it to you.
Tyson Mayer
★★★★★
Such an amazing team at Blue Star. from ordering to final pick-up of my maverick, they helped me every step of the way.
Response from the ownerThank you, Michael! Your positive review means a lot. We look forward to seeing you in the future, enjoy the new wheels.
Michael Beeson
★★★★★
Had my car in at Bluestar for a shifting concern, called and spoke to the receptionist and she sounded so cheerful and she was so helpful . She got me connected with service. I was able to book my car in on a date that worked. I took my car there and they were extremely helpful and knowledgeable. They kept me in the loop step by step, great communication from Wes! I will always bring my Fords to Bluestar.
Response from the ownerThank you, Jenifer, for sharing your positive experience. Looking forward to seeing you again!
Jenifer Kendall
★★★★★
Truck was on time staff was friendly
Response from the ownerThank you, Dave! Enjoy your new truck and we look forward to working with you again.
Dave Gyselinck
★★★★★
Robert Long
★★★★★
Netlocust
★★★★★
Went in after horrible service at Heaslip in Hagersville. They were awesome. Booked a prompt appointment. Looking forward to their service.
Nancy Tweedie
★★★★★
Always Friendly and Helpful, Always go out of their way to help!
Response from the ownerFrank, thanks so much for taking the time to post this review - we sure do appreciate it! We'll look forward to seeing you and Sylvie next time as well!
frank eames
★★★★★
Treated me very well
Garrett Williams
★★★★★
Great parts people
Collin Stratford
★★★★☆
Great service kind and friendly and know what they are doing.
michael wasch
★★★★★
I had called Josh from Blue star ford about getting a Maverick which was unavailable at the time. He kept my name and called me as soon as one was available and didn't mark the vehicle up at all. Service was amazing and efficient highly recommend both Josh and Blue Star
Danny McIsaac
★★★★★
Great place to deal with.
Don Williams
★★★★★
Deidre Ingraham
★★★★★
Great service
Peter Debono

WELCOME TO BLUE STAR FORD LINCOLN SALES, YOUR SIMCOE FORD DEALERSHIP

We know that you have high expectations in your car search in Simcoe. So if you're in the market for a new Ford, stop by Blue Star Ford Lincoln Sales. We're confident we have the right vehicle for you. Here at Blue Star Ford Lincoln Sales, we enjoy the challenge of meeting and exceeding customer expectations in all things automotive.

We offer a great selection of new vehicles in our showrooms here at Blue Star Ford Lincoln Sales. You'll also find a huge selection of certified pre-owned and used cars of various makes and models. Begin your search by browsing our online inventory. Compare and find deals on Ford cars, crossovers, SUVs and trucks. Visit the various specials pages for the latest incentives and deals. You won't regret it.

Found the car of your dreams? Or simply don't know what you can afford? No problem! The financial specialists here at Blue Star Ford Lincoln Sales offer a variety of finance and lease options. They will work with you to find the right loan terms. At Blue Star Ford Lincoln Sales, we pride ourselves in finding the right payment schedule for customers in Simcoe and the surrounding area.

Finally, Blue Star Ford Lincoln Sales believes in regular maintenance and we want you to believe as well. Thus our expert technicians are here to give the highest quality of service. Need an oil change? No problem! Or your vehicle needs more extensive work? No problem! You'll soon understand why customers in Simcoe keep coming back to Blue Star Ford Lincoln Sales for all their automotive needs.